It is only proper that a celebration of American traditional tattooing take place where it originated: shipboard. Returning to the 19th-century warship Olympia for a fourth year, this unique event will bring more than 100 tattooers to Penn's Landing for a weekend of live tattooing, tattoo contests, and fun to celebrate what began in America as a sailor's tradition. Explore exhibitions featuring vintage tattoo images and paraphernalia from America and the Pacific or get tatted by some of the country's best tattoo artists. Featuring live music, the opportunity to be tattooed using vintage acetate stencils, special guests including Shanghai Kate, and a unique setting on the Delaware River. — Thea Applebaum Licht
2 p.m. to 11 p.m. Friday, 11 a.m. to 11 p.m. Saturday, 11 a.m. to 8 p.m. Sunday, Independence Seaport Museum, 211 Columbus Blvd. $20 (one-day pass); $40 three-day pass. 215-423-4780, villainarts.com.
The summer freak-out for wee ones continues at the Smith Memorial Playground and Playhouse, with the second of three concerts. This one features kiddie pop-punks the Not-Its (pictured above) with the alt-rock family band Chibi Kodama, plus a celebration of the play space's 118th birthday, with a red carpet and photo booth, face painting, arts stations, and special giveaways. — Michael Harrington
4 p.m. (concert starts at 6 p.m.) Friday, Smith Memorial Playground and Playhouse, 3500 Reservoir Drive, East Fairmount Park. $10. 215-765-4325, smithplayground.org
Storybook Musical Theatre presents Patricia Goldberg and Kevin Arruda's musical version of the Grimm tale about two wily siblings outwitting a wicked witch. (Given that synopsis, note that this one is best for ages 3 and older.) — M.H.
10:30 a.m. Friday, 11 a.m. Saturday, Gratz College Theater, 7605 Old York Rd., Melrose Park. $14; $12 ages 3 to 12. 215-659-8550, storybookmusical.org
Celebrate Caribbean culture with a day of music, dance, food, and more on the New Jersey waterfront. 15 years in the running, this annual festival combines local talent, Caribbean vendors, and reggae, R&B, hip-hop, rap, soca, and other music for a positive, family-oriented celebration. Past years have brought together performers from all over the world and included activities for children like mask-making and face painting for a colorful festival for people of all ages. — T.A.L.
Noon to 8 p.m., Saturday, Wiggins Park Marina, Mickle Boulevard and Riverside Drive, Camden. Free. 856-580-0178, sjcaribbean.com.
The Philadelphia Museum of Art's Inside Out program is responsible for bringing replicas of the museum's masterpieces outdoors. The initiative has seen large, framed copies of works by Vincent van Gogh, Monet, Georgia O'Keeffe and many more artists grace neighborhoods throughout Philadelphia. This weekend, residents of these neighborhoods, and of past Inside Out neighborhoods, can visit the museum for free by sharing their zip code at a Visitor Services desk. — T.A.L.
10 a.m. to 8:45 p.m. Friday, 10 a.m. to 5 p.m. Saturday, 10 a.m. to 5 p.m. Sunday, Philadelphia Museum of Art, West Entrance, 2600 Benjamin Franklin Parkway. Free to Inside Out community residents. 215-763-8100, philamuseum.org.
A showing of Steven Spielberg's 1993 classic that will have you feeling even closer to the digital dinosaurs. See the movie projected in HD at the Mann Center, accompanied by the Philadelphia Orchestra playing John Williams' iconic score. It's a night of science-fiction thrills — all in a theater open to the night sky. Bring chairs or blankets. Picnics are allowed, so take your friends and a basket; you just might want to skip the raw meat. — T.A.L.
7:30 p.m. Saturday, the Mann Center, 5201 Parkside Ave., Fairmount Park. $25-$80. 215-546-7900, manncenter.org.
The fabulous found-film presenter's private archive contains literally thousands of reels of 16mm (and 35mm, and 8mm) features, theatrical shorts, cartoons, newsreels, television shows, educational films, travel films, industrial films, and home movies. It add up to well over three million feet of celluloid, with several prints thought to be the only copies still remaining. So, it makes sense that a visit to the vault will produce a program such as "Archive Discoveries: Unseen Curiosities," with selections that have never been seen in previous programs (and some that likely haven't been seen in a long time). Among the offerings: the 1932 cowboy spoof Wide Open Spaces, made by the Masquers Club of Hollywood, an actors fraternity featuring character actors such as William Farnum, Frank McHugh, and deadpan wizard Ned Sparks; Shopping Around, a 1954 Chevrolet sales training film starring the gruff William Frawley (who was also then huge star on TV as Fred Mertz on I Love Lucy) as very particular customer; Peter Bryant's pastoral and stark 1968 Cold War parable Andy; Rochester's Railroad, an obscure 1957 clip of Jack Benny sidekick Eddie "Rochester" Anderson showing off his elaborate model train sets; an odd Evinrude Motors 1950s documentary about the albatross, The Gooney Bird; and The Code: The U.S. Fighting Man's Code of Conduct, a 1959 training film with a stern Jack Webb detailing what to do if captured by the enemy (just name, rank, serial number). — M.H.
Singer Jazzmeia Horn may be just in her early 20s, but she's got an old soul, performing standards in style that harkens back to the greats while maintaining a style all her own. — M.H.
8 and 10 p.m. Friday and Saturday, South 600 N. Broad St. $25. 215-600-0220, southrestaurant.net.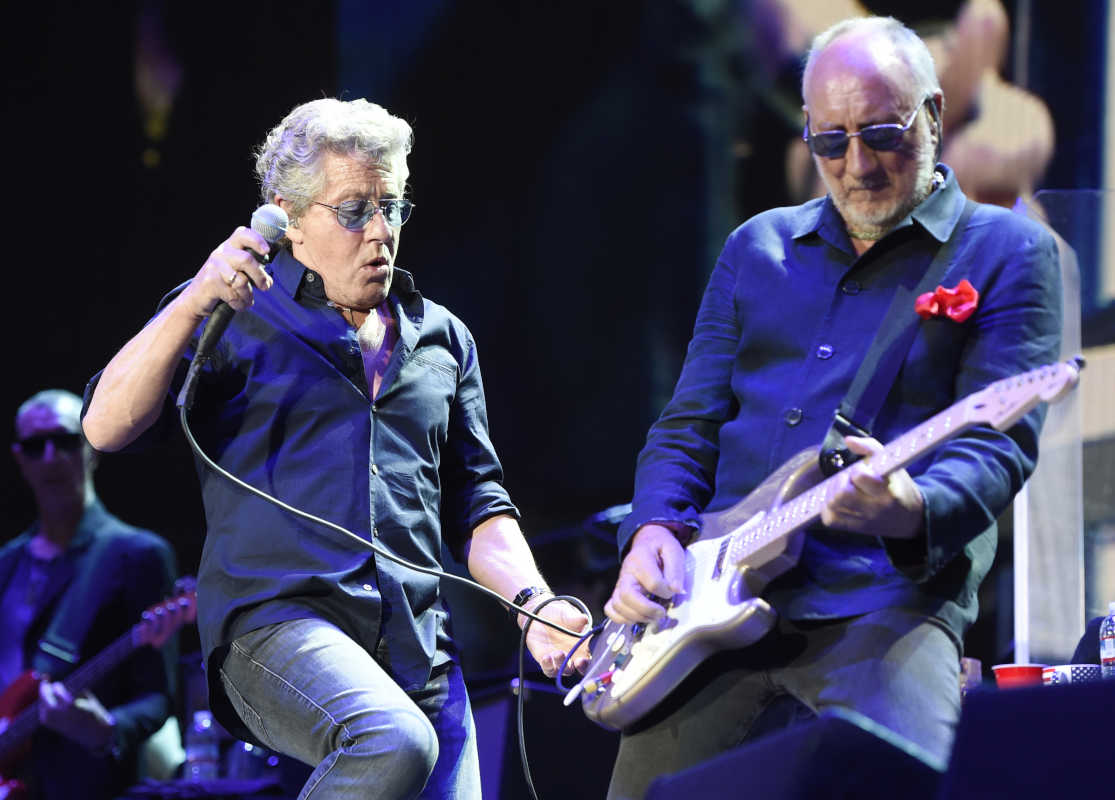 More than 50 years after their initial rush of fame as the quintessential London "Mod" band, the Who — or should we call them the Two, since only Pete Townshend and Roger Daltrey remain from the original lineup? — can still blow the lid off any venue. With several top-flight backing musicians — including guitarist-singer Simon Townshend (Pete's younger brother); bassist Pino Palladino; and drummer Zak Starkey, son of Ringo and godson of the late, great Keith Moon – The Who remain an energized (and seemingly indestructible) live act. They haven't released an album of new material in more than a decade, but no one cares: everyone's there hear the "old stuff" anyway, and that's what they'll get during this "best of" tour — everything from 1965's youth anthem "My Generation" to tracks from Tommy, to "Baba O'Riley" and beyond. Long Live Rock. — Nicole Pensiero
7:30 p.m. Saturday, Boardwalk Hall, 2301 Boardwalk, Atlantic City. $46.50 to $151.50. 800-745-3000, ticketmaster.com.
From Kinshasa, the debut from the Congolese band Mbongwana Star, was one of 2015's most exciting and unique albums, a seamless blend of rapid rhythms, reverb-soaked electric guitars, subtle electronics and layered vocals. Like their compatriots Konono No. 1, who guest on one track, Mbongwana Star can be trance-like in their shape-shifting repetition, and Western ears can hear traces of the cosmic abstraction of Sun Ra ("From Kinshasa to the Moon"), the deep grooves of Funkadelic ("Masobélé"), and the buzzy post-punk synths of LCD Soundsystem ("Kala") in their infectious, danceable mélange. The multigenerational band with several members in wheelchairs doesn't tour America often — Thursday's free show in Abington is one of only four U.S. dates, so catch them now. — Steve Klinge
7 p.m. Thursday, the Abington Arts Center, 515 Meetinghouse Rd., Jenkintown. Free. 215-887-4882, abingtonartcenter.org.

In advance of the married Malian musical duo's upcoming hypnotic album, La Confusion, and just in time for the pair's newly released EP, Bofou Safou, guitarist/singer Amadou Bagayoko and vocalist Mariam Doumbia — better known as Amadou & Mariam — grace World Café Live with their flickering brand of African highlife and glittering, jittery funk. "Creating in an individual way makes our recorded endeavors richer," Mariam once said about the duo's separate-but-equal writing and playing process in regard to messages of love and socially aware statements made in their songs. — A.D. Amorosi
8 p.m. Saturday, World Café Live, 3025 Walnut St. $25-$35. 215-222-1400, worldcafelive.com
Late of alternative noise gods Sonic Youth and proponent of all things No Wave, guitarist and singer Thurston Moore still plays and writes like an ardent fan of the avant-garde punk that he was when he came to New York City in the mid-1970s. Yet, after relocating to London after Sonic Youth's demise and falling in love, and taking into account the inspiration of psychedelic Brit folkies (e.g. Fairport Convention), Moore has come up free-spirited and poppy in his most recent solo work, Rock and Roll Consciousness. If you still yearn for the Youth, the combo's drummer Steve Shelley is touring with Moore, so there. — A.D.A.
9 p.m. Saturday, Underground Arts, 1200 Callowhill St., $15-$17, undergroundarts.org
Hey you! Want to party? Jenice Armstrong and the People Paper invite you to meet the region's most eligible bachelors and bachelorettes, as named by the Daily News and spotlighted from Monday to Wednesday. It goes without saying that this will be the hottest party of the summer (and we're not talking about the humidity).
7 p.m. Wednesday, Union Trust, 717 Chestnut St., $30 (one drink ticket, cash bar, lower-level access only); $75 (open bar, heavy hors d'oeuvres, upper- and lower-level access). www.philly.com/singlesparty